Big banks are missing out.
The newspapers are overflowing with headlines about innovative companies leveraging the latest digital technologies to dominate entire industry sectors. This may lead one to believe that internet based companies are conquering the markets. The reality is we are just at the beginning of the so-called "New Digital Economy".
Big banks prefer traditional business models.
An example of early adoption is retail. Amazon.com is now the world's largest online retailer, as well as America's second largest employer. As of 2018, amazon.com ranked 2nd behind Walmart on the list of the world's largest retailers by revenues, while Alibaba, the Chinese online retail giant, ranked 7th. The other 8/10 of the top retailers, however, still consist of long-established physical stores such as Aldi, Carrefour and Costco. Of the top 10 global retailers, traditional bricks-and-mortar retailers still account for 85% of total sales!
Big banks are missing out on enormous opportunities in the New Digital Economy.
But the writing is on the wall; when ranked by market capitalization, of the world's most valuable companies, only two retail companies make the top 10; not coincidentally Amazon and Alibaba! The message is clear; the market is convinced that online retailers will drive growth and ultimately dominate the retail sector.
Similar arguments can be made for a wide range of industries such as fintech, gaming, supply chain management, accommodation, travel, transportation, healthcare, education, entertainment, music, news, and TV. Like retail, all these sectors are in various stages of digitization with rapidly growing B2C companies such as Netflix, AirBnB and Uber receiving the most media exposure. Thousands of companies large and small in the New Digital Economy are experiencing double-digit compound annual growth rates (i.e. Retail; 22.6%, Online Banking; 19%, Blockchain/Crypto; 27.7%, Gaming; 10%) while their offline counterparts typically achieve less than half that.
To give an example of how these new companies will dominate the economy in the near future, with even just an 8% overall CAGR, the 12.9 trillion dollar Digital Economy of 2017 will reach 23 Trillion dollars by 2025, 3 Trillion dollars larger than the entire US economy in 2018.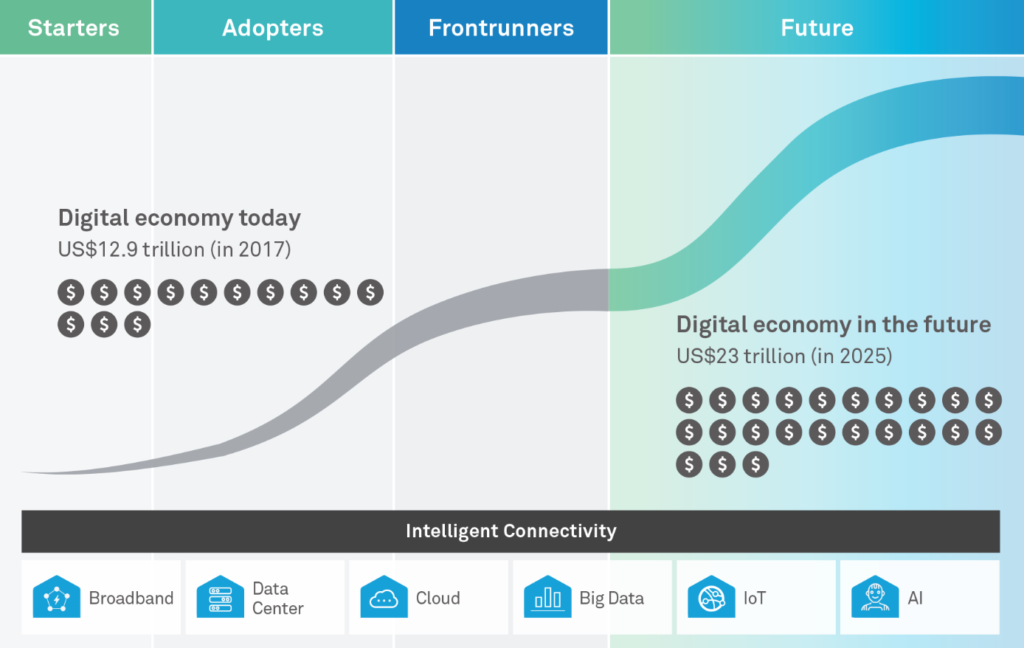 Big banks have reason to pay attention.
With a regular series of banking disasters over the past 40 years, big banks and their shareholders know it is just a matter of time before the next one. After the stock market crash of 1987, followed by the Asia financial crisis of 1987–88, dot.com bubble of 1999–2000, and global financial crisis of 2007–08, the next crisis could be right around the corner.
Better to be safe than sorry.
The New Digital Economy is still a small sector compared to the overall economy. Players in this new sector often need time… lots of time … before they reach profitability; AirBnB was in the red for 8 years before achieving profitability in 2016. Netflix still operates at a loss because of massive investment in new content creation, and Uber has yet to turn a profit. The strategy behind many of today's new digital enterprises is to achieve economies of scale first… and profitability later. This is not a compelling argument for big banks with big operating costs.
Big banks have big bills to pay and shareholders to satisfy
Doing business with companies in the New Digital Economy is not compatible with big bank mentality. With thousands of employees, hundreds of physical locations and shareholders that must be satisfied on a quarterly basis, providing banking services to companies with untested business models, limited credit history and a decade-long profitability horizon does not sit well with traditional bankers nor their shareholders or board of directors.
INITIUM: New banking for the New Digital Economy
With a new generation of tech startups desperately needing corporate banking services to survive and grow, a new breed of bank must be willing to serve this market. A bank that specializes in understanding, vetting and supporting emerging companies seeking to reengineer and improve how we exchange goods and services with each other.
INITIUM aims to be such a bank; a private, multi-domicile bank dedicated to providing corporate banking services to companies in the New Digital Economy. A bank that is eager to pick up and manage the money that big banks are leaving on the table.